Request Code Signing Certificate or Email Certificate
Request Code Signing Certificate or Email Certificate
For requesting an email or code signing certificate a CSR is required. This can be generated during the request of the certificate with Internet Explorer or Firefox. The functionality is not available in Chrome. It's also possible to generate the CSR in OpenSSL. Because this process is complexer we recommend not to do this.
Below you will find the steps for requesting the certificate. We start with the email address and your name.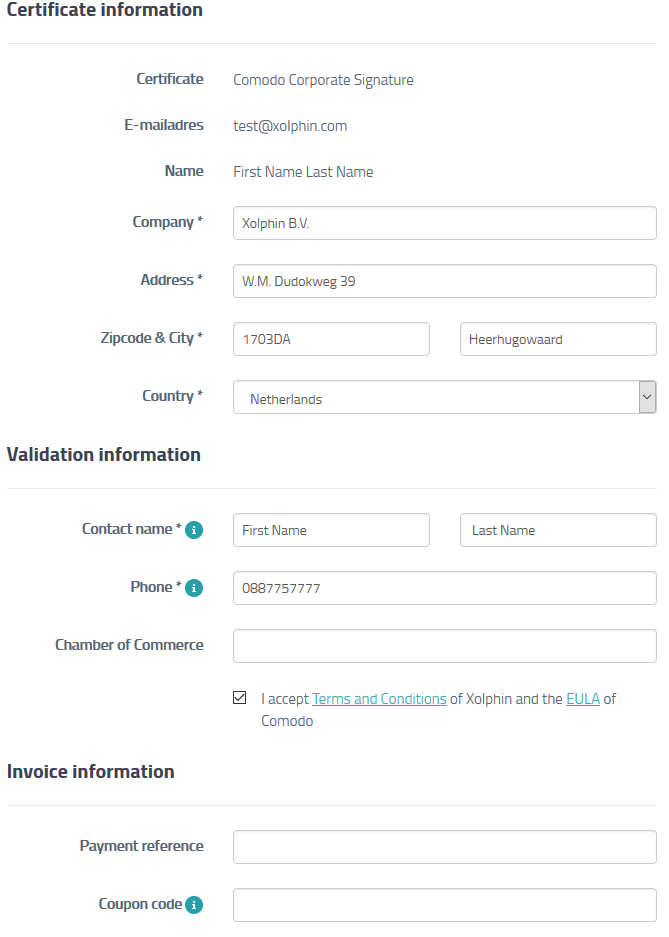 Email: Enter the email address that needs to be added in the certificate.
Name: Enter the name of the person or department that needs to be added in the certificate. Note: When you order a Code Signing certificate the fields shown above will be replaced by a rule where the domain name must be filled in. This will only be used for validation purposes and will not be added in the certificate.

Select Continue. The CSR will now be generated automatically.
During step 2 you fill in the required certificate information:
In Validation information you enter the contact who can confirm the order.

Contact name: Enter the name of the contact to whom the request can be confirmed by phone.
Phone : Enter the registered phone number of the organisation for which the certificate is requested. This field is not required when requesting a personal signing certificate.
Select the check box "I accept Terms and Conditions of Xolphin and the EULA of Comodo" when you accept these.

Under Invoice information you can optionally enter a payment reference. This will be shown on the invoice.
Select Continue.
After this your you will be asked for your customer details. These are only for administration and invoicing purposes and have nothing to do with the data that will be added in the certificate. Note: The email address and the password are required when you need to login in the Control Panel so you need to remember these! The invoice will be send to this email address as well.
Select Continue.
As a check all earlier given data will be shown, select Confirm Order if the data is correct or choose back to make changes.
After all the data is checked and you placed the order, our verification department will process this as soon as possible
Need help?
SSLCheck
Our SSLCheck will examine your website's root and intermediate certificates for correctness and report any potential issues